Syria: Kurdish forces advance towards ISIL-held town at Turkey border
Comments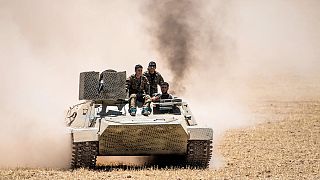 Kurdish forces are digging deeper into Syria's Raqqa province.
YPG militia are advancing towards ISIL-controlled Tal Abyad, at the Turkish border.
They are setting their sights set on taking the town, raising the prospect of a battle at the border.
For the YPG, seizing Tal Abyad would help them link up Kurdish-controlled areas in Hasaka province and Kobani.
The town is important to the self-proclaimed Islamic State group as the nearest border area to its de facto capital of Raqqa city.
Fighting near the border has already forced 13-thousand people to cross into Turkey from Syria.
Some 15-hundred more are still waiting to escape. Turkish soldiers sprayed water and fired into the air when some of them approached the border fence on Saturday, according to a security source.
But it is not just ISIL and refugees troubling Ankara. It is also worried about the expansion of Kurdish influence near its territory. Turkey has long been concerned about separatism amongst its own Kurdish population.