John Kerry leaves hospital after cycling accident
Comments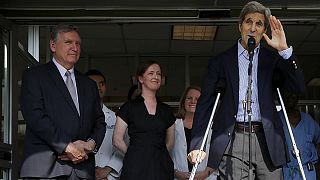 US Secretary of State John Kerry promised to get back to work on the Iran nuclear deal as he left hospital on Friday.
He broke his leg in a cycling accident last month in France. He returned to the US shortly afterwards for surgery.
Kerry said he would be "totally engaged" in talks to finalise a deal with Tehran and will travel later this month.