Greeks demand action as crunch debt deal talks resume in Brussels
Comments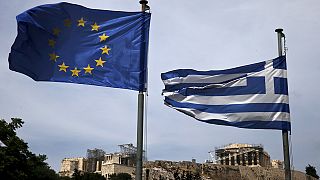 Greece's finance minister says he does not think European partners will allow the country to exit the eurozone.
Yanis Varoukfakis' optimism comes as Athens races to agree a cash-for-reforms deal.
There is mounting concern that it could default on a 1.5 billion euro debt repayment to the IMF later this month.
Athens residents are hoping a resumption of talks in Brussels will finally bring an end to all of the uncertainty.
"Saying that we want to remain in the eurozone, but that we don't want new measures, is absurd. We have to make up our minds," said Vicky Sachinidou.
"Or we do what they tell us and we accept and implement whatever measures they want or we negotiate and accept the risk that we might have to leave;" she continued.
"But since it's a given that if we stay, there will be a catastrophe, perhaps leaving might be better."
Another Athens resident, Efthimis Efthimoulis, added: "We definitely need major reforms in the public and private sectors and we need measures that will encourage growth. Businesses must be given the opportunity to start working again."
The IMF pulled a team out of talks in Brussels on Thursday, amid an unbreakable stalemate. The negotiations have dragged on for four months.
The Greek government says it wants to strike a deal with creditors to stay in the eurozone, but it will not agree to deeper cuts to pensions and workers' rights.
Economists think a deal is still possible, but acknowledge Athens may soon face an ultimatum: accept the demands, or be shown the door.