Closer to a deal? Greece to re-start stalled debt talks
Comments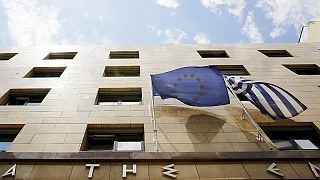 As the clock ticks for Greece to strike a debt deal to avoid a default, Athens says it will restart stalled negotiations in Brussels on Saturday.
The government is said to be ready to submit counter-proposals to bridge differences with its creditors.
It comes after the IMF withdrew its team of experts from the Brussels talks on Thursday, as a cash-for-reforms deal remained elusive.
The Greek government is confident that it is now closer than ever to striking a deal, according to an official.
Athens needs an agreement to unlock aid or loosen curbs on how much it can borrow in short-term debt – before a 1.6 billion euro IMF repayment becomes due later this month.
A default could be devastating, leading to a possible departure from the eurozone.
At the same time, the government is facing continuing anger over austerity.