Sports United: All female crew Team SCA win Volvo Ocean Race leg
Comments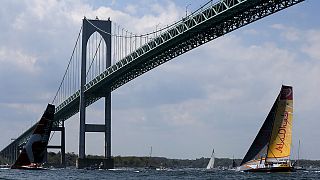 Being punched, kicked, choked, strangled, and suffering excruciating joint-locking doesn't sound a whole lot of fun.
But those were the occupational hazards for the athletes who gathered in Almere the Netherlands for the European Ju Jitsu Championships.
Mikkel Willard added a European gold to his medal collection when he beat Ukraine's Ivan Nastenko in the men's -85 kilo fighting class.
Denmark's Reigning world champion dominated from start to finish, and suffered just a bloody nose en route to the top of the podium.
Poland's Martyna Bieronska celebrated victory in the -55 kilo women's fighting division.
Aggressive from the start 31-year-old Bieronska upset the odds to beat current world champion Jessica Scricciolo of Italy.
In the Ne-Waza discipline, Laurence Fouillat of France claimed gold in the women's -55kg competition.
Fouillat produced a dominant display to beat Russia's Oksana Moskalenko, who tapped out after being held down with a lock.
Girl power
Girl power flexed its muscles in the predominantly-male dominated Volvo Ocean race this week.
For the first time in 25 years an all-female crew has won a leg in the gruelling around-the-globe Volvo Ocean Race.
Team SCA skippered by Briton Sam Davies, won the eighth and penultimate 647-nautical mile stage, from Lisbon to Lorient.
Tracy Edwards was the previous female skipper to enjoy success in the 1989-90 race.
Abu Dhabi Ocean Racing skippered by Briton Ian Walker, finished third to all but secure overall victory with the final leg to Gothenburg Sweden remaining.
Some two thousand spectators turned out in Vail in the US to watch real life spider men and women tackle the IFSC Bouldering World Cup finals.
Because of the discipline's difficulty the climbing path is aptly called a 'problem'.
Jan Hojer totally dominated the men's bouldering event.
The German climbed consistently throughout the finals to cinch the win ahead of 18-year-old American Nathaniel Coleman and Czech Republic's reigning world champion Adam Ondra.
Megan Mascarenas thrilled the home crowd as she climbed to the biggest win of her fledgling career.
No climber was able to complete the fourth problem in the final but the 17-year-old nailed the first three to hold off Japan's Akiyo Noguchi and England's Shauna Coxsey.
From swimming ace to cycling star
Jody Cundy is a truly exceptional athlete he's a multiple world and paralympic champion in swimming and cycling and the 36-year-old is hungry for more success.
Lower limb amputee Jody Cundy's sporting career began in the pool and by 2004 he was a three-time paralympic and three-time world champion.
But believe it or not swimming wasn't his strongest suit.
Cundy said: ''It was an interesting switch, at that time I was training for the 2006 swimming world championships and it got to the point where my cycling got better and better.
''When I moved to the cycling team I found out that I was actually more naturally gifted on a bike than I was in a swimming pool.
''Three months later I won a world title in the kilometre time trial and, yeah, I haven't lost it since.''
After his disqualification at the London Olympics which led to his notorious expletive-rich rant at officials, the ten-time world champion wants Olympic redemption.
''It will be my sixth paralympic games if I go to Rio.'' said the Wisbech Town born Cundy. ''Things are going really well, the motivation is still sky-high. And that disappointment from London of not being able to defend my kilometre time trial…to be able to take that and use that as motivation to go to Rio and try and win a gold medal.
''If I am going to finish there, finish on a high. But If I still love the sport, I love the sport anyway, I still love riding my bike; if i still find that love and I'm still riding fast and getting better and better as I go along I will keep doing it as long as I can,'' said the 36-year-old.