Going Deutsch: climate change and radical extremism are on the agenda at the G7 summit in Germany
Comments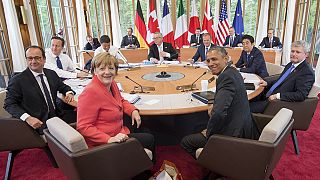 Angela Merkel is pushing for concrete results at today's first working session of the G7 summit. The German Chancellor wants fellow world leaders to limit temperature rises to within two degrees of pre-industrial levels.
This is an important staging post before the UN climate change conference in Paris in December, and is being seen a concrete test of commitment.
The threat posed by radical extremism is also on the agenda.
The summit is being held in the picturesque Alpine surroundings of Schloss Elmau in Bavaria.
Despite the remote location, hundreds have gathered to protest over international issues ranging from climate change to free trade.
Germany has spent an estimated 200 million euros on security and dispatched more than 20,000 police officers to the area. Demonstrations so far have passed off peacefully.