G7 leaders take a tough line against Russia at Alpine summit
Comments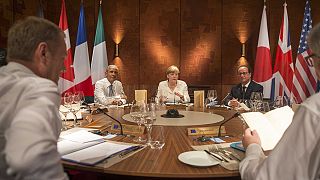 Leaders attending the G7 summit in Bavaria have vowed to maintain a tough stance against Russia.
At the end of day one of the two day meeting they agreed to keep sanctions in place until President Vladimir Putin and Moscow- backed separatists fully implement the terms of a peace deal for Ukraine.
Behind the scenes of the #G7 summit just before the start of G7</a> leader&#39;s working dinner on foreign + security policy <a href="http://t.co/vBjNygqfvw">pic.twitter.com/vBjNygqfvw</a></p>&mdash; GermanForeignOffice (GermanyDiplo) 7 Juin 2015
German Chancellor Angela Merkel who is hosting the summit at Schloss Elmau, an Alpine hotel in the south of the country, stressed that any easing of sanctions depended on Russia:
"I think that we will send a united signal. Sanctions are not an end in themselves, but can be used when necessary. We always said that the extension or the suspension of such measures depends on the implementation of the Minsk agreements," said the chancellor.
The countries taking part in the summit are Britain, Canada, France, Italy, Japan Germany and the United States.
Russia has been excluded from what was previously known as the G8, since the annexation of Crimea last year.
While both Russia and the Greek crisis are overshadowing disusions, Monday's agenda is expected to include talks on climate change.
Merkel is hoping to secure commitments from her G7 guests to tackle global warming ahead of a major United Nations climate summit in Paris in December.
On Sunday the leaders of the Group of seven industrial nations had to be shuttled to the summit site by helicopter after hundreds of anti-globalisation protesters blocked the roads in the area.