Positive mood despite talks between Greece and creditors ending with no deal
Comments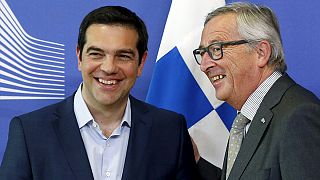 With an IMF payment due on Friday there was still no deal between Greece and its creditors as late-night talks came to a close in Brussels.
Greek Prime Minister Alexis Tsipras, who emerged from the negotiations with European Commission President Jean-Claude Juncker, was in positive spirits. He said he believed "an agreement is in sight".
The leftist-led Greek government still rejects the benefit cuts and tax increases both the EU and the IMF creditors have been asking for before fresh loans are released to Athens.
The Eurogroup chief Jeroen Dijsselbloem said the talks were "very good" and would continue in a few days.
Euronews' reporter in Brussels Sándor Zsiros said: "a big announcement didn't happen, so the question remains whether Greece will go bankrupt, or reach a deal with its creditors."