Frustration in Athens over Greek debt talks
Comments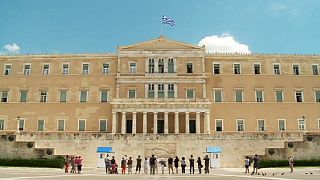 The new set of reforms creditors are listing for Greece in exchange for urgently needed cash could taste bitter to voters in Athens, after five years of austerity measures.
Opposition leaders slammed Prime Minister Alexis Tsipras over his negotiating skills on Thursday, saying Napoleon had fared better at Waterloo.
"We wonder what exactly has the government been negotiating over the last four months, if the creditors insist on such outrageous austerity measures," said Dimitris Tsiodras, spokesman for the opposition party "The River".
According to local media, Greece's creditors want Athens to cut pensions, raise taxes and sell state assets – demands that clearly cross what Tsipras has said are non-negotiable "red lines".
"(The lenders) have taken everything they wanted all these years, which we were trying to ward off, and put it all in one proposal," said Adonis Georgiadis, the parliamentary spokesman for the conservative New Democracy party of former prime minister Antonis Samaras. "Napoleon fared better at Waterloo."
The plan could spark a revolt within Tsipras's own radical leftist party, warns Angelos Koveos, political analyst for "To Vima" newspaper.
"Mr Tsipras will have to confront a very strong tendency within the party to vehemently oppose any agreement containing clauses contrary to SYRIZA's manifesto," he says.
On the streets of Athens, some voters were clearly not happy either about how long an agreement is taking in Brussels – when Greece is fast running out of cash.
"This is no serious negotiation, this is just antics that will lead to an agreement that will take Greece more than 20 years to overcome the crisis," one woman said.
"A solution will be found in the end, but it's a real disappointment that this has been dragging on for so long," said another.
Opposition from inside and out could prompt Tsipras to call early elections to overcome divisions, explains our reporter in Athens, Stamatis Giannisis: "With the unrelenting demands of the country's foreign creditors on one hand and the intransigence of his own party's hard left on the other, Prime Minister Tsipras is faced with a very difficult political conundrum. The only solution may turn out to be a new general election, as early as the beginning of July."