Heavy fighting in eastern Ukraine despite ceasefire
Comments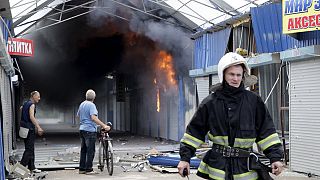 Ukrainian troops and pro-Russian separatists fought their most serious battles since the ceasefire signed in February with the fighting centred near Donetsk.
Ukraine's military said the Moscow-backed rebels had tried to advance using tanks and around 1,000 fighters.
The separatists denied their forces had launched the assault on the Kyiv-controlled town of Maryinka. They accused government troops of firing artillery at rebel territory, killing 15 people.
Earlier, an elderly were reportedly the victims when their car was caught in heavy shelling in the Luhansk region.
The Ukrainian Prime Minister Arseny Yatseniuk accused Russia of destabilising the situation in the east of the country and said he hoped the G7 leaders would respond to Moscow's actions at the upcoming summit in Germany.