Ghana's president 'heartbroken' after explosion kills around 100
Comments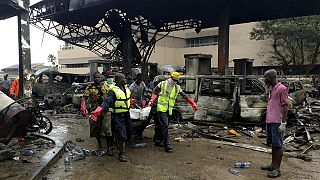 The president of Ghana says he is heartbroken by the heavy loss of lives after an explosion at a petrol station killed around 100 people in the country's capital city Accra. The death toll is expected to rise.
Charred corpses and burned out cars littered the forecourt of the station where rescuers wearing face masks and gloves worked to remove bodies, most of which were unrecognisable.
"…this loss of life is catastrophic, almost unprecedented," said President John Mahama. "So we will leave the city authorities and the emergency services to continue to do their work, but we must sit and strategise to make sure that this doesn't happen again."
Fire fighters battled the blaze which is said to have been caused by a fire at a nearby lorry terminal, which spread to other buildings.
Many of those who died on Wednesday night had been sheltering from torrential rain.
Extreme weather has left buildings and vehicles submerged across the city.