Drunken man takes selfie and topples Lenin
Comments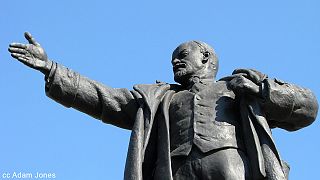 A Russian man has destroyed a statue of Lenin while attempting to take a 'selfie'.
According to law enforcement in the Kemerovo, or south-central, region of Russia, "a thirty-year-old man in a drunken state" broke to pieces a monument of the ex-Soviet leader.
The statue was said to have been damaged before from children playing on it.
The intoxicated vandal was trying to climb the monument when the incident occurred and was later identified by fingerprints left on a beer bottle adjacent to the rubble.
Пьяный житель Кузбасса сломал памятник Ленину, пытаясь сделать селфи с вождем http://t.co/BTR6TZlIXppic.twitter.com/anudUECARU

— Mikhail Golub (@golub) junio 4, 2015
30-лет пьянючий мужик с Кузбасса, житель Прокопьевска (Кемеровская обл) пытался сделать селфи с "вождем" Володя пал! pic.twitter.com/nmIWtvgXVl

— Жизнь в Резервации (@CleanAuthoritie) junio 4, 2015
The press service of the regional government agency confirmed the detention of the accused, noting that he had been interviewed by police with a procedural decision to follow.
'Selfies' are a social phenomenon that involve taking digital self-portraits. Normally conducted in good fun there are ever-increasing stories of accidents – and even deaths – due to this modern way of capturing life in photos.
Photo: Lenin statue at Finland station, Saint Petersburg. By Adam Jones adamjones.freeservers.com