Fighting intensifies between Kurds and ISIL militants in northern Syria
Comments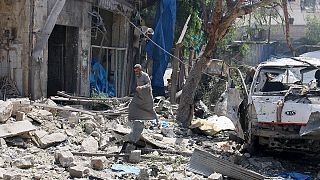 Fierce fighting continues between ISIL militants and Kurds in Hasaka city, in north-eastern Syria.
The region surrounding the city is strategic because it links Islamic State-held lands in Syria and Iraq.
The fighting came a day after US State Department spokeswoman Marie Harf said authorities heard reports that forces loyal to Syrian President Bashar al-Assad launched air strikes supporting ISIL's advance.
ISIL fighters are said to have captured another village in the Aleppo province in northern Syria.
A video posted online purportedly shows their fighters walking unopposed in the town of Umm al-Qura, near the border with Turkey.
Meanwhile British actor Michael Enright has joined Kurdish fighters in their battle against Isil.
The 51-year-old starred alongside Johnny Depp in the blockbuster Pirates of the Caribbean.
The actor says he joined the fight after hearing about ISIL's treatment of hostages and its persecution of Yazidis.