Muslim Brotherhood members to appeal death penalty if imposed, lawyer confirms
Comments
By
Euronews
with
Mohammed Shaikhibrahim, Reuters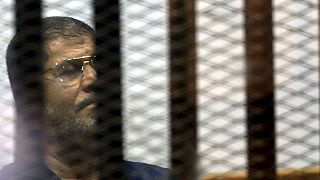 Mohamed Mursi's legal team will appeal the death penalty if it is imposed on the ousted Egyptian president and other members of the Muslim Brotherhood, the group's lawyer has confirmed.
His statement came as a court in Cairo delayed issuing a final ruling over a death sentence recommendation until June 16.
Mursi and other top members of the banned Muslim Brotherhood group have been convicted of kidnapping and killing police officers, attacking police facilities and breaking out of jail during an uprising against Hosni Mubarak.
Speaking outside the court, Abdel-Moneim Abdel-Maqsoud, a lawyer for the group said:
"Everything is possible, we're ready for anything. If they confirm the death penalty, we'll appeal again."
The May 2015 recommendation was referred to Egypt's Grand Mufti and the court will now take into consideration his non-binding opinion.
Euronews correspondent Mohammed Shaikhibrahim was in Cairo:
"If ousted President Mohamed Mursi is executed he will become the first president to receive this sentence in Egypt's history," he said. "But the question remains: how will the current regime deal with the international and local repercussions?"