Greece submits 'realistic' plan to creditors as it races to strike debt deal
Comments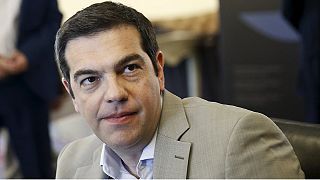 Greece says it has sent creditors a "comprehensive" and "realistic" package of reforms, as it races to reach a last minute debt deal.
Prime Minister Alexis Tsipras is calling on Europe's leaders to accept the plan to end what he describes as "divisions."
"We have made concessions, because a compromise demands concessions," said Tsipras.
"We know these concessions will be difficult but we have submitted a realistic plan for Greece to exit the crisis."
It is believed the plan was submitted in time for late night talks in Berlin – involving Angela Merkel, Francois Hollande and finance officials.
The clock is ticking ahead of a Friday deadline, when Athens is due to make a 300-million euro repayment to the International Monetary Fund.
There have been growing doubts about whether it is able to settle its bills. A default could lead to a eurozone exit.
The Greek government has re-iterated that it cannot sign any agreement that's in conflict with its anti-austerity programme.
In a recent newspaper article, Tsipras accused lenders of making "absurd proposals" and disregarding Greek democracy.