Egypt's top court to decide on death sentence for former president Mohamed Mursi
Comments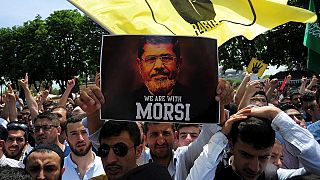 A final decision is expected to be given by Egypt's top court on the fate of the country's former president, Mohamed Mursi.
Last month, the death penalty was sought for Mursi and 106 of his Muslim Brotherhood in connection with a mass jail break in 2011.
The current president, and then army-chief, Abdel Fattah al-Sisi removed the former president following mass protests against his rule.
Tuesday's verdict can be appealed.
Mursi and the Islamist Muslim Brotherhood movement won the country's free presidential elections and broke a tradition of leaders from the armed forces dating back to the 1950s.
Despite the charges against him, Mursi appeared defiant in his last public appearance.
Sisi has said the Muslim Brotherhood poses a great threat to national security.
Meanwhile, the Egyptian government said on Monday that it had stopped a plot "by the Brotherhood terrorist organisation to collect intelligence information to carry out hostile attacks against state institutions."