Solar Impulse 2 begins Pacific crossing
Comments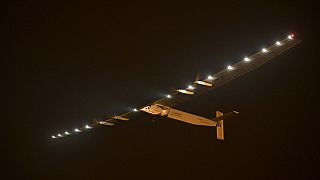 The Solar Impulse 2 plane takes off at the Nanjing Lukou International Airport, Jiangsu province in China.
The plane took off from eastern China's Nanjing after more than a month of delay to complete the most challenging leg yet of its Round The World adventure: the crossing of the Pacific via Hawaii.
Pilots Piccard and Borschberg will take turns at the controls of Solar Impulse 2, which began its journey in Abu Dhabi in the United Arab Emirates on March 9, as it makes its way in the first round-the-world solar-powered flight in about 25 flight days at speeds of between 50 kph and 100 kph (30 mph to 60 mph).
I'm slowly getting used to #Si2's cockpit and feeling more and more comfortable in my new environment pic.twitter.com/NUpseQiBq8

— André Borschberg (@andreborschberg) May 31, 2015
I feel confident about this flight from Nanjing to Hawaii. It will be the flight of my life pic.twitter.com/PacWPjEvDD

— André Borschberg (@andreborschberg) May 30, 2015
Source: REUTERS