Poland 'Pro-life' march attracts thousands in Warsaw
Comments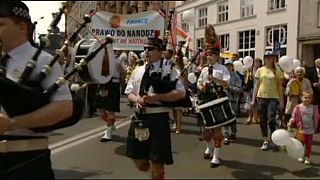 Around 5,000 anti-abortion protesters took to the streets of Warsaw on Sunday.
Called the march for 'Life and Family', demonstrators called for the morning after pill to be banned. The over-the-counter sale of the pill was approved in April following heated debates in parliament and the media.
The pro-life movement also wants a bill on a total abortion ban to pass in the Polish Parliament this July, currently abortions are allowed in limited cases.
Poland is one of the few EU countries where abortion remains extremely limited, only Ireland and Malta have more restrictive laws.
Last week, the country elected Andrzej Duda as president. He is known to oppose abortion, same-sex marriage and in vitro fertilisation (IVF) treatment.