Twin car bombs at top Baghdad hotels kill 10, wound 30
Comments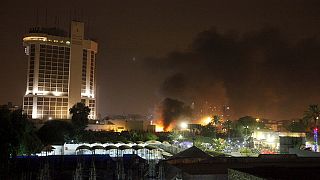 Car bombs exploded in the parking lots of two luxury hotels in central Baghdad late on Thursday, killing at least 10 people and wounding 30.
The first bomb targeted the Babylon hotel, where government officials often hold meetings and news conferences.
A few minutes later, a second one exploded near the Cristal Grand Ishtar – the former Sheraton – in an area which also includes a club and is crowded on Thursday nights.
Both hotels are popular with wealthy Iraqis and Westerners, including journalists and aid workers.
Earlier this year, Iraqi authorities lifted a decade-old night-time curfew on Baghdad, in an attempt to restore a sense of normalcy to the capital as security forces battle Islamic State militants who have taken over large parts of the country.
But the rate of bombings in Baghdad has increased since then.