FIFA's Blatter wins reelection after two rounds of votes
Comments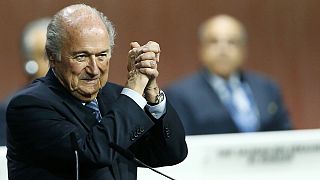 UPDATE : Sepp Blatter wins FIFA presidential vote after Prince Ali withdraws his candidacy for the second round of voting.
Sepp Blatter unexpectedly failed to win the votes he needed to become president of FIFA for a fifth term on Friday and there will be a second ballot.
Blatter had been expected to win despite demands that he quit in the light of a major bribery and corruption scandal engulfing world soccer's governing body.
Neither Blatter nor Jordanian challenger Prince Ali bin Al Hussein got the necessary two thirds of the vote. Blatter secured 133 votes and Prince Ali won 73 at FIFA's annual Congress in Switzerland.
Speaking just before the vote, Blatter, who joined FIFA in 1975, said he felt that he had only been with the organisation for a short time and wanted to stay longer.