(UPDATE) FIFA's other match: Palestinians drop motion to suspend Israel from world football
Comments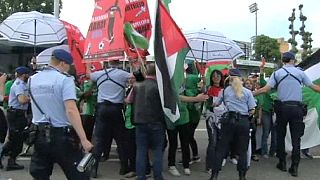 While a corruption scandal plays out in the top echelons of FIFA, the football organisation had faced another decisive vote: The Palestinian delegation wants Israel suspended from world football but the motion has now been abandoned.
Earlier on Friday, protesters pilled on the pressure outside the Congress, the Palestinian Football Association was confident that the members would back the motion.
"All together we have to fight and we have to raise the red card against racism, against the humiliation of people," said Jibril Rajoub, President of the Palestinian Football Association. "No one can support racism, no one can support the humiliation," he added.
However, Rajoub later dropped the motion saying he had been persuaded to back down adding that "it does not mean that I give up the resistance".
The Palestinians have complained for years that Israel discriminates against its players and officials, in particular by restricting their movements around the Occupied Palestinian Territory of the West Bank.
Though suspensions are not out of the ordinary, FIFA has previously suspended countries only when a government is deemed to have intervened in its football association's affairs.