Sevilla chase Champions League place with win over Dnipro in Europa League Final
Comments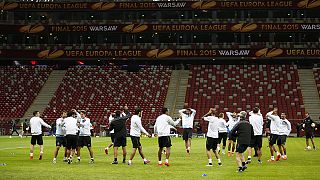 Sevilla warmed up for Wednesday night's Europa League Final in the National Stadium in Warsaw.
The La Liga outfit cruised through to the final with the record aggregate margin of victory in a semi-final. They trounced Fiorentina 5-0. In all they have scored a competition high 26 goals.
They are favourites to retain their title and so be guaranteed a place in the lucrative draw for the Champions League.
"There is a prize this time which we missed last year – the Champions League. It was a good decision to give the winners a place in the draw, it is an added motivation to improve the Europa League. I have been around it and seen the Europa League grow a lot," Unai Emery, Sevilla coach told reporters.
Opposition Dnipro are clear outsiders. They reached the final by upsetting some more fancied teams not least Napoli in the semi-final. The Ukrainians are a well organised side with a solid defence but shy in front of goal finding the net just 13 times.
If they are to clinch their maiden trophy much will depend on how they blunt the attacking prowess of Sevilla and then score.