ISIL release video of ancient Palmyra 'still intact'
Comments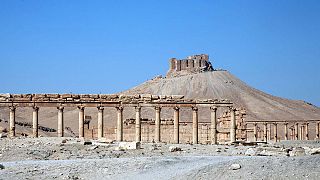 Islamist extremists have released a video which appears to show the ancient ruins in the city of Palmyra still intact.
The historic city is fine....there is no damage so far
When the Sunni militants known as ISIL seized the city from Syrian government control last week it was feared they would destroy the famous Roman remains – as that have destroyed others in Syria and Iraq.
Syria's antiquities chief has independently confirmed via his own contacts on the ground that as yet the UNESCO World Heritage site has not been damaged.
When Palmyra rivaled the Roman Empire: http://t.co/B5XkHjY9dgpic.twitter.com/idStmaUyPE

— Reuters Opinion (@ReutersOpinion) May 26, 2015
But there has been renewed shelling in the area. The Syrian air force says it has been targeting buildings captured by ISIL. A Syrian government spokesman said large numbers of Islamists have been killed near Palmyra's military airbase.
Meanwhile ISIL says it has been battling Syrian forces around the Jezel oil field nearby.
Since the militants moved into Palmyra ISILhas killed at least 217 people execution style including children according to the British-based Syrian Observatory for Human Rights.