France celebrates cinema success at Cannes
Comments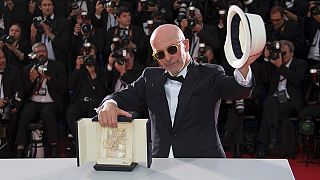 French film "Dheepan" has scooped the Palme d'Or at this year's Cannes Film Festival.
Directed by Jacques Audiard, it revolves around Tamil refugees from Sri Lanka's civil war moving to France, a movie seen as sending a political message.
"It's a film which, for me, is risky and dangerous. And that is what I felt when I was making it. And I am very surprised that in the end it's a film that is actually watched and appreciated. I am very surprised," said Audiard.
"Son of Saul," Hungarian director Laszlo Nemes's debut film, took the Grand Prix second prize.
The portrayal by a non-professional actor of a forced labourer in the Auschwitz concentration camp had a huge impact.
"I think the new generation has to be presented what happened and talked about it in an open way, and this is why we made this movie," said Nemes.
French actor Vincent Lindon won best actor for his role in "The Measure of a Man." He plays a man finding it tough to make a living after a long spell of unemployment.
In a surprise move, the best actress award was split between upcoming Hollywood star Rooney Mara and France's Emmanuelle Bercot.
"The 68th Cannes Film festival finishes in style, with two high impact films on the two highest levels of the podium. And they will stay for a long time in our memories," said euronews reporter Frédéric Ponsard, who is in Cannes.
"French cinema takes home the three most important prizes. Audacity, youth, creativity and the world's chaos were competing once more in this competition."