World Judo Masters, Morocco: Round up from day two
Comments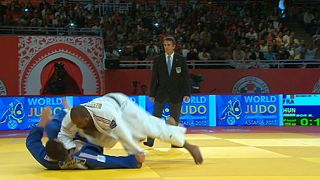 Kim Polling of the Netherlands held her nerve to down France's Gevrise Emane in the women's under 70 kilo final on day 2 of the World Judo Masters in Morocco on Sunday.
In the under 70 kilo category, America's Kayla Harrison outclassed Britain's Natalie Powell thanks to a perfectly-executed ippon after 94 seconds.
Fomer champion Song Yu reigned supreme in the over 78 kilo class.
Kanae Yamabe made her work hard for her title with Yu eventually winning through on shido scores.
In the men's event, Japan's Takanori Nagase kept his composure to beat Ivan Nifontov in the under 81 kilo final. The bronze medals were won by Avtandili Tchrikishvili and Sergiu Toma.
In the under 90 kilo category, Georgia's Beka Gviniashvili edged out Japan's Yuya Yoshida thanks to a perfectly executed koshi-waza for ippon in the third minute.
Elsewhere, Elmar Gasimov stunned world champion Lukas Krpalek in the under 100 kilo final. The 25-year-old overcame a shaky start to take gold with an waza-ari.
In the over 100 kilo class, France's seven time world champion Teddy Riner defeated Barna Bor with a superb o-soto-gari for ippon.
Afterwards Riner was full of praise for this high-profile tournament.
He said: "Things like that (speaking about the tournament) are advancing our sport. Maybe one day it'll be more popular than football or basketball. We are showing the beauty of this sport, showing also that this sport has a moral code, and has values, and also it's nice to watch".