Mixed reaction to French plans to force supermarkets to donate unsold food
Comments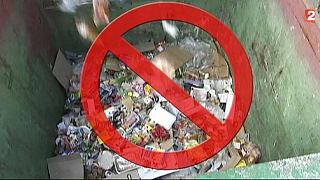 There has been a mixed reaction to moves by France to crack down on food waste.
The French National Assembly has voted to prevent large supermarkets from throwing out unsold but edible food.
As part of a wider law on energy and the environment, food must be donated to charities or used as animal feed or farming compost.
"The law is wrong because large retailers are only responsible for 5 per cent of food waste. Most comes from households, local authorities and institutional catering," said Jacques Creyssel of the French Federation for Trade and Distribution (FCD), which represents supermarkets.
Food banks and one large charity have said they are satisfied with the measures voted by French MPs on Thursday.
In particular the fact that the largest supermarkets will have to sign agreements to donate food has been welcomed.
"Some supermarket foundations have paid for refrigerated trucks and for the workforce the State funds a community service programme," said food bank manager Nicolas Dubois.
A charity providing meals for people in need warned that new agreements shouldn't replace existing ones.
The European Commission has proposed that EU countries develop national strategies with the aim of reducing food waste by a third over the next ten years.
In France an estimated 20 kilos per person is thrown out each year, according to the Environment Ministry, at a cost of between 12 and 20 billion euros.