Argentine court to rule on 'depressed' orangutan
Comments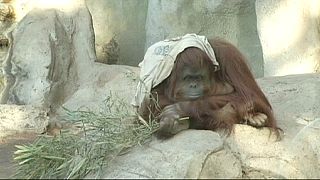 In a world first, a court in Argentina is to rule on whether an orangutan named Sandra is entitled to certain human rights including the right to be freed from the Buenos Aires Zoo.
English News: Orang-utan named Sandra fights for rights in Argentina court – Sydney Morning Herald http://t.co/i6xD31OQwJ

— Breaking News Arg (@BreakingNewsArg) May 21, 2015
Animal activists have claimed Sandra looks depressed and lawyers have filed for unlawful imprisonment.
It comes down to whether Sandra, who has spent her life in zoos, can reasonably be released into the semi-freedom of an animal sanctuary.
Sandra was born in Rostock Zoo in Germany in 1986 and sent to Argentina in 1994. She is known for her shyness, often hiding from sight in her enclosure. Animal activists say that is a sign of depression, but experts say it is normal behavior for orangutans.
So far, the zoo has proposed changing parts of Sandra's enclosure, and continues to maintain that the animal is in good health.