Migrant held in Libya 'beaten' and 'insulted'
Comments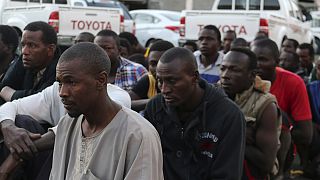 A migrant being held at a detention centre in Libya claims to have been "beaten" and "insulted."
The North African country has become a major hub for human traffickers smuggling migrants by boat to Italy.
"It's the worst in this prison. They have no accommodation, they have no beds or bedding. We've been beaten, we've been insulted, like donkeys. There's no humanity in this prison," said Davel Toleran, an Eritrean refugee at the detention centre in Tripoli.
Thousands of migrants have made it across the Mediterranean to Europe this year. But hundreds have also died.
A military commander showed a mass grave in Libya.
"There are 190 bodies buried here. We pulled them off the beach in one night until the next morning, last October," said Tarek al-Sheerah.
An almost daily exodus of boats has put migration at the top of the Brussels agenda.
EU leaders have agreed a naval mission to target the smuggling gangs, but beyond that, there is division over what to do next.