Botanist discovers portrait of Shakespeare as a young man
Comments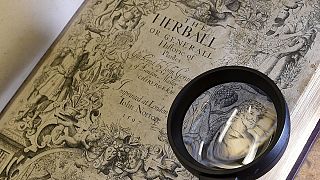 A 400-year-old botany book contains what could be the only known portrait of William Shakespeare made in his own life time.
'Authentic image of Shakespeare,' part of 400-year-old botany book, historian says http://t.co/eptMpmEjUM

— Pixel Fiftyone (@Pixel51) May 19, 2015
The picture of a young , bearded man was identified by Botanist and historian Mark Griffiths.
Until now all other likenesses have depicted the playwright as middle aged and balding.
Griffiths believes that in the engraving the Shakespeare figure is aged 33 and at the height of his celebrity – after writing "A Midsummer Night's Dream" and shortly before "Hamlet".
He made his discovery while researching a biography of botanist John Gerard (1545-1612)
Four figures appeared on an engraving in the book – they are the author Gerard, Rembert Dodoens, ( a Flemish botanist) and Lord Burghley said to have been Queen Elizabeth l spymaster and Lord Treasurer. The fourth holds plants which point to Shakespeare's poem Venus and Adonis.