EU membership remains Serbia's priority, says PM Aleksandar Vucic
Comments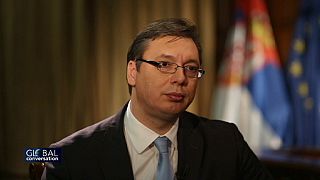 Serbia is a country with deep roots in the past and since the early 19th century has been involved in many conflicts in the volatile region.
Now the nation has its sights set firmly on the future and in particular membership of the European Union. "We are doing our best to stay firmly on our EU path and to fulfil all our obligations," Prime Minister Aleksandar Vucic tells euronews' Isabelle Kumar in this edition of Global Conversation. He reveals the political priorities for his country in its bid to join the bloc.
Aleksander Vucic joined the ultra-nationalist Serbian Radical Party (

SRS

) in 1993
He was Information Minister from 1998-2000 serving under the hard-line Milosevic regime
Vucic broke with the

SRS

in 2008 and joined the Serbian Progressive Party
He was elected Prime Minister in April 2014 promising economic reform and advancing EU membership
But Serbia's past and its relations with Kosovo remain at times a haunting shadow.
"I think we have really achieved a lot, although it was not an easy question for us. It was a very hard, very difficult issue for us, but we carried on with the dialogue with Kosovo Albanians," explains the prime minister on building sustainable relations with Kosovo.
Creating business opportunities within the country and stopping the brightest and best leaving Serbia is also a priority.
"The best way to fight it is to secure a better business environment in this country to change the economic perspectives to give that kind of hope to our people and that's what we are doing.," he says referring to the "brain drain".
Aleksandar Vucic also talks about his time as minister for information under Slobodan Milosevic, relationships with Russia and the economic growth in Serbia.
Of his premiership he says, "I am always doing my best to criticize myself and self-criticism is something that I live with. "
In this edition of The Global Conversation Isabelle Kumar meets Serbian Prime Minister Aleksandar Vucic to talk Kosovo, EU membership and press freedom. Watch the episode online: eurone.ws/N9W66

Posted by euronews on Wednesday, 20 May 2015