Aleksandar Vucic becomes first Serbian leader to visit Albania
Comments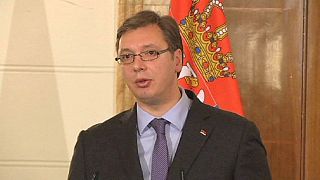 Serbia's prime minister has arrived in Albania for an historic visit.
Aleksandar Vucic is the first Serbian leader to travel to the nation, with which his country has long had tense relations.
He was welcomed in Tirana by his Albanian counterpart Edi Rama.
"If we are smart and responsible enough, and we understand that wars and bloodshed will not solve our problems, and we pursue dialogue and honest relations, then I can say that both Serbia and Albania have a much better future compared to the past we had together," said Vucic, standing alongside Rama.
Serbia has accused Tirana of wanting to create a Greater Albania – encompassing Kosovo, the former Yugoslav Republic of Macedonia and other areas where ethnic Albanians live in the Balkans.
"Greater Albania is an idea of those who don't want what is good for us. Albania has no projects relating to a Greater Albania. We only have one – to join the EU," said Rama.
Vucic's arrival follows Rama's visit to Belgrade in November – the first by an Albanian head of government to Serbia in 68 years.