US considering further sanctions over North Korea's nuclear programme
Comments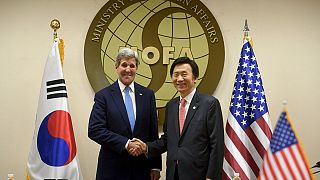 The United States is considering further sanctions against North Korea over its nuclear weapons programme.
The warning came after talks between the US Secretary of State and his South Korean counterpart.
John Kerry said the North has "not even come close" to taking the steps needed to halt its efforts.
"We are united firmly in our determination to stand up against any threats from the DPRK (North Korea), which obviously with its recent behaviour has indicated even greater unwillingness to be reasonable and come to the table to talk about de-nuclearisation," said Kerry.
Pyongyang walked away from a 2005 deal with the United States, Russia, South Korea and China to end its atomic programme in return for diplomatic and economic rewards.
The North recently tested what it said was a submarine-launched ballistic missile, raising regional tensions about the prospect of a heightened threat that already includes nuclear arms development and an arsenal of ballistic missiles.