The ghost factories of Greece – Video
Comments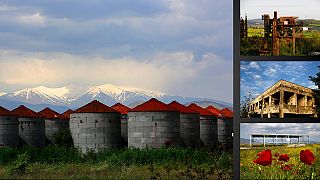 As Athens faces growing pressure to reach agreement with lenders to avoid financial chaos, an angry Greek public is feeling the pain of cuts following a six-year recession, with unemployment more than double the euro zone's average.
Reuters photographer Yannis Behrakis, himself Greek, made a 2,500 km trip from Athens to northeastern Greece via the Peloponnese region in the south to show the remnants of the once-flourishing Greek manufacturing industry, which has suffered a 30 percent drop in production from its peak.
Abandoned factories, previously making goods from timber to textiles and cooking oil, are often looted, adding to the scenes of desolation.
"When I was a child the word "ergostasiarchis" (industrialist) was more like an aristocratic title rather than a description for a businessman" Behrakis recalls.
"I remember the factory being talked about as akin to the cradle of Greece's path to the modern world and prosperity. If there are factories, the elders would say, people can work and support the local economy, without needing to leave the motherland in search of work abroad."
"All these thoughts were bouncing around my mind as I drove north seeking to document the deindustrialisation of Greece.
"
Hundreds of factories have closed down in the past three decades for a number of reasons, but the recent financial crisis has become the tombstone of Greece's industrial era.
"In my 2,500 km trip around Greece I witnessed the sad reality of once-flourishing Greek industry."
Source: Reuters