France clears police in 2005 riots deaths
Comments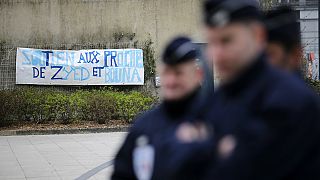 A French court has cleared two police officers over the death of two young men in a Paris suburb in 2005, a case which sparked the country's worst riots in decades.
The judge threw out the charge of failing to help 15-year-old Bouna Traore and 17-year-old Zyed Benna by not raising the alarm when they hid from the police at an EDF power facility where both were electrocuted. The judge said neither officer Sébastien Gaillemin nor officer Stéphanie Klein had a clear awareness of the grave or imminent danger to the teens.
Their deaths fueled three weeks of riots, where some 10,000 cars and 300 buildings were set on fire and the government declared the first state of emergency in 20 years.
Adel Benna, the brother of Zyed, one of the victims, said he was "disgusted" at the verdict saying "Policemen are untouchable. It's not just in this case, they are never convicted." Leader of far-right National Front Party Marine Le Pen said that justice had been done. While her niece, MP Marion Marechal Le Pen said that the verdict "proved that the riffraff" had set fire to the French banlieues out of "pleasure" and not due to police error.
Ce verdict prouve que la racaille avait bien mis la banlieue à feu et à sang par plaisir et non à cause d'une bavure policière. #ZyedetBouna

— Marion Le Pen (@Marion_M_Le_Pen) May 18, 2015
The court ruling has raised fears of renewed unrest in France.