17 arrested at Moscow gay pride protest
Comments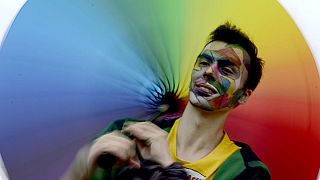 Russian police have arrested 17 people in central Moscow after they gathered to mark the International Day Against Homophobia, Transphobia and Biphobia.
Around 50 people had gathered on a square outside of Moscow theatre when crowd control police drove up a bus and started to pile people inside.
A similar protest in St Petersburg went by undisturbed as people waved rainbow flags and let loose balloons in a variety of colours while police looked on.
In 2013 a law was passed to ban, "gay propaganda" in Russia.