Syria: Ancient city of Palmyra under threat of ISIL rampage
Comments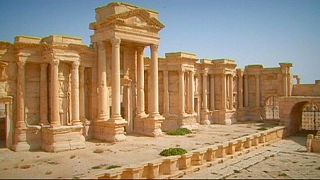 Fears are growing for the ancient city of Palmyra in Syria, hailed as one of the Middle East's most precious cultural treasures, amid reports that ISIL jihadist fanatics
have taken up positions nearby.
Heritage sites should not be used for military purposes
#Syria#WorldHeritage: We must save #Palmyra & prevent its destruction http://t.co/aqpgnPIaeR#Unite4Heritagepic.twitter.com/zRvxLrBRVR

— UNESCO (@UNESCO) May 14, 2015
The UNESCO World Heritage site, known as the "pearl of the desert", has already been damaged by fighting in Syria's conflict.
Now the country's antiquities chief Maamoun Abdulkarim has warned that if the militant group seizes the city "they will destroy everything that exists there".
Some are warning of impending 'cultural cleansing' and 'a crime against civilisation' at Palmyra, an oasis in the desert northeast of Damascus
Also concerned for the site as well as the local population, the head of the United Nations cultural arm has spoken out.
UNESCO Director General Irina Bokova said: "Our position is very clear that heritage sites should not be used for military purposes."
It is easy to see why alarm bells are ringing over the fate of Palmyra. Ultra-radical ISIL Islamists have already systematically destroyed antiquities in Iraqi territory seized by the group last year.