Cannes day 2: two ends of the scale
Comments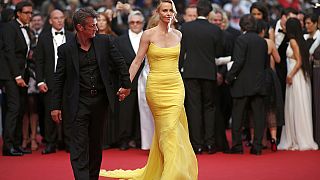 The Festival de Cannes is a melting pot of cinema, from blockbusters to independent films – the proof is in two films from different ends of the scale presented on the web carpet yesterday.
Mad Max: Fury Road was presented out of competition and was very well received at the festival. The soundtrack of the credits was warm applause as the audience digested the feminist perspective on a post-apocalyptic world where men are vile and ugly. Excepting Max, of course, assisted by Furiosa, a dark and determined Charlize Theron. A strong production that revives the darkness of the first film.
And topping it all was the arrival of Charlize Theron and her husband Sean Penn:
The first film to join the race for the Palme d'Or was the Japanese film Kore-Eda (Our Little Sister), a touching portrait of abandoned sisters who, following the death of their father, discover a half sister they never knew existed.
And following the screening was an unusual mid-afternoon red carpet appearance.
Baroque Madness
The other film entering the fray was made by Italian director Matteo Garrone (author of Gomorra), Tale of Tales, an amazing movie starring Salma Hayek as an evil queen and Vincent Cassel as a debauched monarch …
Tomorrow: a radical change of perspective with a Hungarian film and a Greek challenger
This article was translated from the French version of Fred Ponsard