FYR Macedonia premier sacrifices colleagues to save government
Comments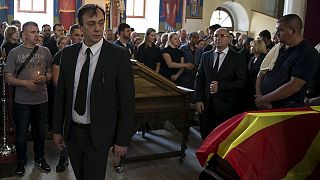 The crisis in the Former Yugoslavian Republic of Macedonia shows no signs of abating with the opposition claiming the government orchestrated Saturday's shootout in which 22 people died.
Within days, two high profile figures have now been removed from office, the country's interior minister Gordana Jankulovska and intelligence chief Saso Mijalkov.
Small symbolic meet in front of #macedonia assembly to celebrate the resignations from ministers #протестирамpic.twitter.com/tHLRRNGHgm

— Пролетта #протестира (@proletnav) May 12, 2015
Embattled Prime MInister Nikola Gruevski who is also embroiled in a wire-tapping scandal
is being accused of sacrificing his colleagues to appease growing calls for him to quit.
While the country mourns those who have died the government is being bombarded by damaging disclosures published by opposition leader Zoran Zaev who says he was given them by a whistleblower.
His party, which is boycotting parliament, is piling on the pressure claiming the leaked illegal wire-taps from the whistleblower prove the prime minister is meddling with the judiciary and the media.
Analysts claim Gruevski hopes Tuesday's high profile sackings may stem the criticism even though a second anti-government protest is planned for Sunday
Avalanche of resignations and replacement in Skopje tonight points at severity of the crisis in Macedonia.

— Carl Bildt (@carlbildt) May 12, 2015