Truce comes into force in Yemen, but concern remains about ongoing fighting
Comments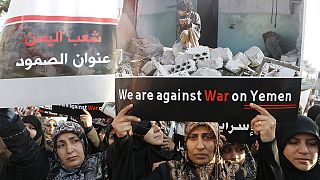 A truce to allow for humanitarian aid to be distributed in Yemen has officially come into force, but there are concerns about ongoing fighting.
Attempting to restore exiled President Mansour Hadi to power, Saudi-led airstrikes have been targeting Houthi rebels and army units loyal to former president Saleh.
One resident in Sanaa told reporters: "What truce? How long will it last? On what basis will it end? And what after the truce? How will we live after the truce? Before the truce we were in a bad way, so how will it be after the truce?."
Another man said: "We're all asking for a truce. We need fuel and diesel and flour. We need aid, we need everything now. The people are dying of hunger."
An untold number of people have been killed and wounded in the conflict.
And numerous people, including civilians and soldiers, have been killed in recent exchanges of fire across the Saudi-Yemen border.
The humanitarian situation on the ground has been worsening, with widespread shortages of water, food and medical supplies.