Ethnic tensions in FYR Macedonia are re-ignited after weekend of violence
Comments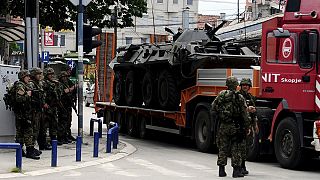 Tensions within the former Yugoslavian Republic of Macedonia have been re-ignited by Saturday's day-long gun battle between police and what the government claims was a terrorist group.
Gun battle in ethnic Albanian region deepens Macedonian crisis http://t.co/HF06QOwF0x

— Reuters Top News (@Reuters) May 10, 2015
The 'security operation' took place in Kumanovo which is an ethnically mixed town located about 40 km northeast of the capital Skopje, near the border with Kosovo and Serbia.
Ethnic Albanians who had been evacuated from the area when the security forces moved in, began to return to their homes on Sunday to scenes of destruction and the walls of their homes scarred by bullet holes.
"There were no terrorists here," said local resident Fehmi Hajdari. "I don't know even who they could be. Members of the family heard the shots. They were asleep when it started. They came out through that window and hid in the basement until it was safe to come out."
More than 30 people were arrested after the operation. The government claims the alleged terrorists were former rebel commanders from neighbouring Kosovo which broke from Serbia in a war in 1999 and inspired an ethnic Albanian insurgency in FYROM two years later.
In an address the country's Prime MInister Nikola Gruevski said the eight policemen who had died in the operation had been 'neutralising terrorists' who had wanted to destabilize Macedonia'.
In 2001 when rebels demanded great rights for ethnic Albanians, NATO brokered a peace deal. After this weekend's violence the organisation is calling for an investigation.
About a quarter of FYROM's two million population are ethnic Albanians.
Macedonia's (Former Yugoslavian Republic) bid to join NATO and the European Union is blocked by a long.running dispute with Greece over the country's name.