Britain's election shines Tory star, leaves others in the dark
Comments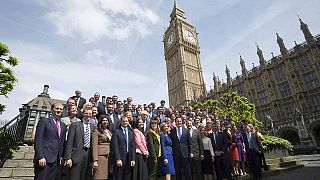 Britain's political landscape has been redrawn, with two leaders cast into the political wilderness and one triumphant survivor — the prime minister.
The opposition Labour Party and the Liberal Democrats have to reinvent themselves.
Labour was driven to the verge of extinction in Scotland, condemned as not leftwing enough, and was drubbed in England on the back of feelings it has tipped too much to the left.
The centrist LibDems paid dearly for being in coalition with the Conservatives.
Whoever is ultimately chosen to replace Labour's Ed Miliband has a daunting pathfinder's task between New Labour proposed policies, especially business, and lingering Old Labour for the faithful.
The LibDems' Nick Clegg risks finding he has no political home as his party, a shadow of its former self, seeks out a new identity.
Even though the UK Independence Party won the third-highest number of votes, it only got them a single seat. Although Nigel Farage did not get one, his resignation as leader has been rejected.
David Cameron now has a clear mandate. He spoke out for unity, and promised that his government will give voice to all of Britain's voters. At Downing Street, he focused on forces that many feel could weaken Britain: European integration and the surge in Scottish nationalism.
On Friday, Cameron said: "We will deliver that in-out referendum on our future in Europe. As we conduct this vital work, we must ensure that we bring our country together. As I said in the small hours of this morning, we will govern as a party of one nation, one United Kingdom."
Proving that policy-making priorities will have vigorous input from the unofficial public, protests quickly broke out against austerity, within 48 hours of Cameron's speech at Number Ten. Many feel the Conservatives will destroy welfare systems and limit democracy, furious that the Tories won power with only 37 percent of the votes.
Economist Raoul Ruparel, highlighting what Cameron will attend to earliest, said: ''A referendum bill will be one of the first things that Cameron tables under his new government, mostly because he wants to push it through quickly so he has time to negotiate with Europe, but also because it'll be easier to push through when the LibDems and Labour in opposition are in disarray.''
While the Tory foundation stands firm, eurosceptics will insist Cameron push for serious concessions from the EU. Britain's other parties feel that to preserve pluralism they will have to fight to be heard in the national decision-making forum, like the Scottish nationalists have with such success.