Putin and Merkel agree Ukraine peace deal not being respected
Comments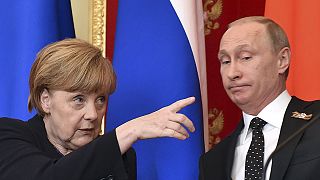 The Russian President has met the German Chancellor to mark the 70th anniversary of Victory in Europe.
Angela Merkel joined Vladimir Putin in laying a wreath at the tomb of the unknown soldier, a day after Russia staged its biggest ever military parade to commemorate its victory over Nazi Germany in what is known in Russia as the Great Patriotic War.
Saturday's ceremony was boycotted by nearly all EU leaders over Moscow's stance on Ukraine.
Speaking at a news conference, the pair agreed that a peace deal agreed in Minsk to end the separatist conflict still had numerous problems. But Putin tried to make clear that the situation in Ukraine is now calmer.
Both leaders also stressed that the agreement must be respected before diplomatic and humanitarian efforts can be implemented.