US troops in Ukraine to train soldiers, angering Russia
Comments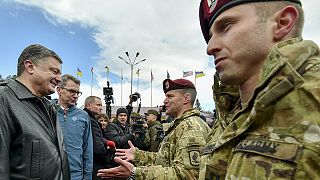 Some 250 American troops are in Ukraine to help train local soldiers, as the conflict with pro-Russian rebels in the east continues.
"While Barack Obama decides whether or not to provide Ukraine with military arms, the US is helping in another way," said our correspondent in Ukraine, Dmitry Polonsky.
The training near Lviv in the west of Ukraine is being provided by US paratroopers from the 173rd Airborne Brigade.
Cayle Reed, a US Army Brigade Major, told euronews: "We will demonstrate the training, with our weapon systems, then we will allow them to imitate the training that we have actually provided to them.
"And then at the very end (there) is actually a review of what they have learned and an evaluation to help them get better."
Some 900 Ukrainian soldiers are involved in the training exercises, and the country's president attended the opening ceremony.
Petro Poroshenko said: "My decision, as the commander-in-chief, to build a new quality army, the Armed Forces of Ukraine, is beginning to become a reality with the help of our American partners."
The training is expected to last six months, and comes on top of other US logistical support.
Russia has condemned the presence of American troops in Ukraine, slamming it as a "provocation".