Poland's President Komorowski set for re-election while radicals make gains
Comments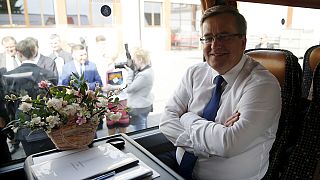 Pre-election polls in Poland give current President Bronislaw Komorowski the lead ahead of this Sunday's vote.
The moderate candidate is expected to earn around 40 percent in the first round.
Meanwhile his conservative rival Andrzej Duda looks set to face him in the run-off claiming around 25 to 30.
However a certain disillusionment with mainstream politics has led some to consider more radical candidates.
Among them is the former rock-star Paweł Kukiz who is polling around the 10 percent mark.
Meanwhile at around five percent is Janusz Korwin-Mikke, an Ally of UKIP in the European parliament.
In Poland's parliamentary system it is the prime minister who runs the government but the presidential role is far more than ceremonial.
He is head of the armed forces, has a say on foreign policy and can veto legislation.
He also appoints the head of the central bank in agreement with parliament.