Setback for Sarkozy presidential bid after phonetaps ruled legal
Comments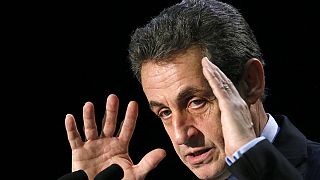 The former French President Nicolas Sarkozy has suffered a potential setback to his mission to seek election again in 2017.
His team are to appeal after magistrates ruled conversations with his lawyer were phone-tapped
legally as part of an investigation into alleged corruption.
Sarkozy and his lawyer Thierry Herzog are suspected of trying to interfere in another inquiry.
It's thought Sarkozy may have promised to promote a judge in return for information.
"We are going to file an appeal to (the highest court) the Cour de Cassation against this ruling immediately. The fight to protect lawyer-client privilege is not simply Thierry Herzog's battle, it is a battle for all lawyers, and it will carry on with the same strength and the same energy," said Herzog's lawyer, Paul-Albert Iweins.
The news comes at a key time for the centre-right party Sarkozy leads. It's changing its name from the UMP to the Republicans and is planning its strategy for the next elections.
Some of his supporters say the magistrates' decision may be politically motivated.
The former president or his allies have faced a string of investigations, including into alleged illegal party financing.