Boris Johnson evades media scrum at polling station
Comments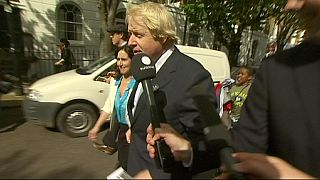 Boris Johnson may have hoped to amble quietly to the polling station to cast his ballot in his Islington consitituency in north London, but it turned out to be no walk in the park.
The London mayor, who is tipped to replace David Cameron as Conservative leader sooner or later, was quickly engulfed in an unruly media scrum determined to ask awkward questions. Johnson, maintaining a jovial if slightly tense facade tried to weave his way through a thicket of reporters, but his polite requests to make way fell on deaf ears.
He then attempted to zig-zag across the road, but was unable to shake off Euronews' intrepid correspondent, James Franey. It wasn't just tough questions Mayor Johnson had to evade as he jinked in and out of the traffic.
Watch the video to see more of what happened. .