UK election campaign enters final 48 hours
Comments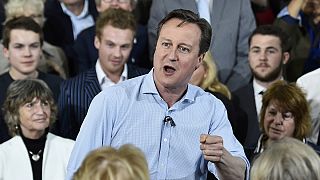 With less than 48 hours to go in the tightest election battle in a generation British party leaders are clambering to get every last vote.
With no clear winner in sight, the fight has turned David Cameron against his current coalition partners.
Latest Populus VI: Lab 34 (+1), Con 34 (+1), LD 10 (+1), UKIP 13 (-2), Greens 5 (+1), Others 5 (-). Tables here: http://t.co/SHRLoFM4Fw

— Populus (@PopulusPolls) May 5, 2015
''If you vote Liberal Democrat, you don't know what you are going to get," Cameron told crowds on the campaign trail in London. "Nick Clegg was very clear at the weekend, he's just as likely to support an Ed Miliband-SNP government, that would bring the country to a juddering halt, than he is to support the Conservatives. So if you prefer me as your prime minister, don't leave it to chance. Vote Conservative, wherever you are."
Any scenario seems possible at this point. But with David Cameron promising an EU referendum, the pro-Europe Liberal Democrats might find this one compromise too far.
Meanwhile, Labour leader Ed Miliband continues to keep his cards close to his chest about who he will do a deal with to secure a majority at Westminster, by saying he is fighting to the last.
''I'm going to fight every step of the way for our National Health Service. I'm going to fight every step of the way for working families, I'm going to fight every step of the way for a Britain that can do so much better than it can under David Cameron. Now, my opponents might want to start talking about the outcome of an election that hasn't happened. I'm going to focus on getting the right outcome out of that election for the working people of our country."
He is facing the fight of his life in Scotland, where his party is facing a wipe out at the hands of the Scottish National Party. While leader Nicola Sturgeon has offered to join him to lock the Tories out of power, Miliband is reluctant to give in.
Follow election night live from 10pm on May 7 on euronews.com