Rescuers in China get aid through to quake-struck village on foot
Comments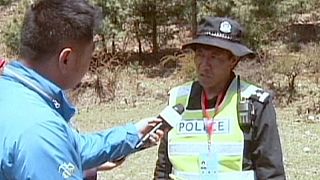 Nepal's earthquake has also had an impact on parts of south west China. The village of Laojiang which has been cut off by landslides is being given a life line by a 65-member relief team which is getting equipment through on foot.
Each day the aid workers are making a six hour hike up to the village.
The team leader says it's a job which has to be done, "It could take days for the road to be cleared," so until then he says, "we will keep on carrying supplies up to the village ourselves."
Each man is taking up 15 kilograms of vital aid which includes tents, boxes of noodles, and medicines.
Most of the houses in the village suffered some sort of damage in the earthquake and the residents – all 74 of them – are having to take shelter where they can.