Burundi protests resume against president's decision to seek a third term in office
Comments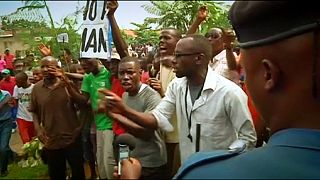 Two people have been killed in demonstrations in Burundi. The deaths happened when hundreds of people took to the streets of the country's capital on Monday (May 4). They want President Pierre Nkurunziza to abandon plans to stand for a third term in office.
Demonstrators set up road blocks and set fire to tyres in several suburbs of Bujumbara. There were clashes with police who fired tear-gas and water cannons.
The army was called up to try to restore order.
At least six people have been killed in the unrest, in the southeast African nation, since Nkurunziza announced on April 25 that he would stand in the June election. 
The government called the protests illegal and an "insurrection".
The United States, European nations and regional countries had urged Nkurunziza not to stand.
They said he risks undermining the Arusha peace deal which ended the ethnically fuelled civil war in 2005 and has kept the country calm for a decade.