Australia says Europe has sought advice over migrant crisis
Comments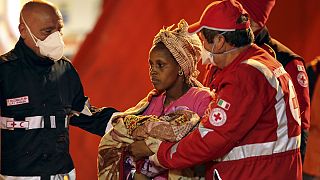 It is a journey which is rife with risk, a business as traffickers try to cash in on calm summer seas and a headache for authorities and governments.
My understanding is that there has been some contact at official level between Australian people and Europeans
Now Australia has weighed in on the row over how to deal with the thousands of migrants trying to reach Europe's shores.
Prime Minister Tony Abbot claims there has been contact at "official level" between his government and Europe.
Australia deters asylum seekers by refusing to allow those attempting to arrive by boat to ever settle in Australia.
An estimated 10 people died over the weekend and some 5,800 rescued in 17 separate operations by Italian and French ships.
In an another incident five smuggling boats were intercepted and taken to Misrata.
On board were more than 500 illegal migrants many from Africa's poorest and most war-torn countries. The boats were escorted back to port on Monday morning and the migrants detained. Media sources in Libya say a further 480 were caught hiding in a farm near the central town of Jufra.
"It is a long and difficult journey that could lead to death, from Sudan to Ajdabiya and from Ajdabiya to another area until you reach Tripoli and every leg of the journey could lead to death," explained one Sudanese migrant, while another, Amina Ahmad said: "We are suffering can't you see? Look at us, look at us. We are risking our lives, Now, that's not when we are happy being like this. We are suffering, can't you see, we are suffering. We are suffering, you people just have to see our pain."
Despite EU leaders agreeing last month to triple the funding for rescue operations run by the EU border agency there is still disagreement.
Austrian Chancellor Werner Fayman said on Sunday the EU should set up a quota system for member countries to take more refugees.